Over here is the final result of the Masak-masak challenge #3 organised at
M4M Forum
.
As I very seldom work with puff pastry, I had to do some research over the net to get an easy and workable recipe to bake with. This is the third time in my entire life handling puff pastry.
I baked the above to include the ingredients of puff pastry and a meat which is chicken here and also made a salad using canned peaches.
The salad is simply a bunch of Romaine lettuce, half a shredded carrot, a handful of chopped canned peaches and some chopped strawberries. The salad dressing is a combination of mayonnaise, honey mustard and relish with a tablespoon of honey.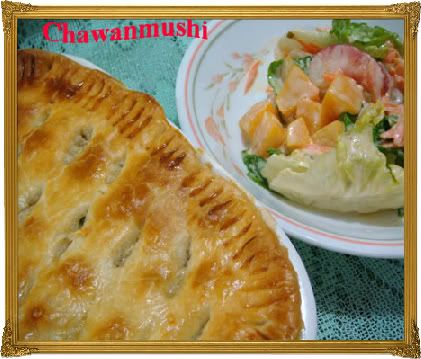 Here's sharing with you the Chicken Pot Pie recipe.....
Ingredients and method:
One packet Sunshine Puff Pastry thawed out 2 hours before use.
Sprinkle some plain flour and roll out the puff pastry to 2 mm in thickness and then use the pie dish to trace out the surface. I managed to get 4 pieces and there were some extra left.
500 g fresh chicken thighs, cubed
Season this with half tsp salt , a tsp sugar, some pepper and a tbsp of apple cider vinegar.
Leave the chicken meat to marinade for about half an hour to an hour.
1 can of Campbell Mushroom soup
1 no. onion, chopped
1 small can of button mushroom, sliced
1 tbsp of garlic, chopped
1 cup of frozen mixed vegetable, thawed
3 tbsp of vegetable oil
3 nos. tomatoes, chopped
Heat up the oil and fry the onion and garlic till fragrant.

Add in the tomatoes and stir fry till all the tomatoes, soften.

Add in the chicken pieces and stir-fry them till 3/4 cooked.

Add in the canned soup and a little water, add in mushroom and mixed vegetables.


Simmer all the ingredients for about 5 minutes.

Scoop the pie ingredients into the pie dish.

Allow the pie ingredients to cool a little and then place a piece of the puff pastry over the pie dish.

Egg wash the surface of the puff pastry and then poke some holes on the surface using a fork or a knife.

Bake in a pre-heated oven at 200 degree C for about 20 minutes or till the puff pastry turns a golden brown.

Remove and serve.